Week by Week Vol. 2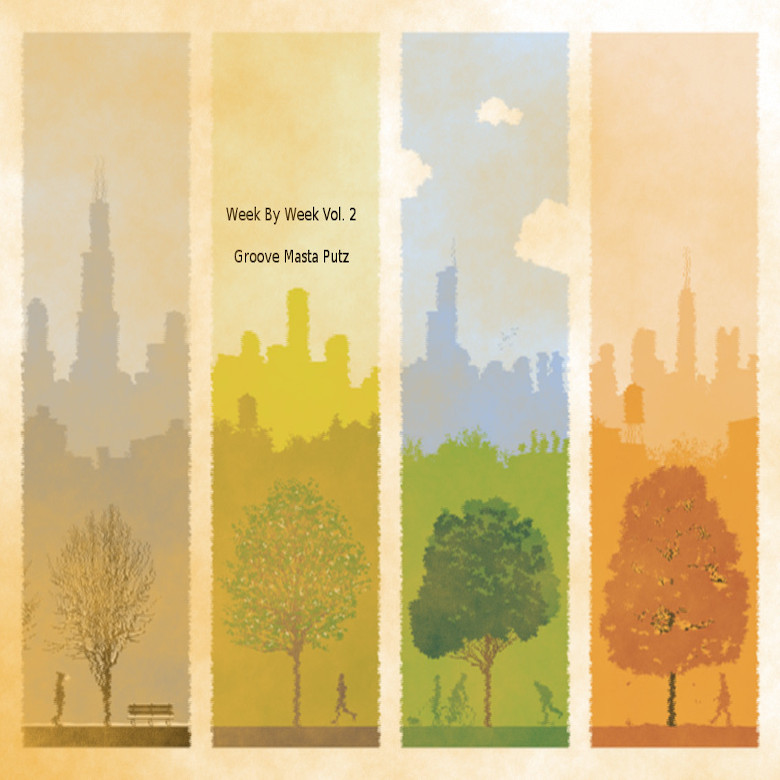 Released: August 23, 2013. Note: first release was on this date, subsequent songs were released weekly afterwards
This is a continuation of something I actually started under my old artist name "putzpie". I would try to release a beat every week for a stretch of time. The first one I did in high school with plenty of free time and turned out to be some pretty good practice. I tried again with this volume, and under the name "Groove Masta Putz" this time, but judging by the final release date, finals started kickin' my ass and I just called it good after 14 instead of 23 like the last one.
Anyway, this album is much more experimental and I tried out a lot of different things without really having any particular goals in mind other than "make music", so some of it is shit and some it is actually alright lol.
Enjoy!
Links
Songs
This music is licensed under the Creative Commons 4.0.
Descriptions
Attack of the Yolo Bitches (Week 1)
One day when browsing through facebook a friend of mine posted some goofy 6 second vine clip or something and it spawned this beautiful mess of a banger. Don't let mom catch you listenin' to this one! Spawned the album.
Unfortunate Circumstances (Week 2)
I sampled the powerful scene from The Boondocks (episode: A Date with the Booty Warrior) where a prisoner reflects on how badly he wishes things could be different in this world. I feel that. Not like in the "I have any idea what prison is like" sense, but in the "solidarity with all of the oppressed" sense, ya know?
A Jazzy Summer's Eve (Week 3)
Sampled Dave Brubeck - Kathy's Waltz and made a dope beat out of it. It's pretty upbeat! I used just the song itself as the only "instrument".
It's Goin' Down (Week 4)
No, it's not a reference to the blog/anarchist thing. It's actually a reference to the sample I used: Motherfucking Bootleg Fireworks!!!!. I forgot I made this or what it sounded like until listening to it to make this description lol. It's pretty fun, lots of breaking glass and intense synths. Lots of energy and fireworks. Fairly cohesive all things considered!
My Favorite Strings (Week 5)
I sampled Tchaikovsky - The Waltz of the Flowers to make an intense remix of my favorite orchestral song at the time. Lots of great memories with this one from trips long ago.
Encrypted Signals (Week 6)
Took my long time favorite track from Shadow the Hedgehog - The Doom and used exclusively that to make a beat. Encrypted signals is the perfect name for a remix in which I literally use only the song itself (other than a dial up tone anyway) to code dank new beats in a way that copyright filters can't detect ;). For how much of a hassle chopping up a song that way is and getting it to sound good, this turned out pretty good. I'm pretty happy with it. Yeah there's some rough edges, but fuck it!
Dirty Dancin' (Week 7)
Google translate is a dirty lady... like mortal kombat domme dirty ;)
Nardis Strut (Week 8)
Sampled John Coltrane and Bob James - Nardis as well as some other tracks of his and made a hip-hop beat. Not the first time for either probably but you know what I had fun and hopefully you will too!
Mr. Krab's Poop Tubes (Week 9)
Used a Youtube Poop (shitty youtube videos of meme TV shows & games cut together) to make this. Honestly, you can probably just skip this one haha.
The King's Departure (Week 10)
The name is a reference to the classic game series King's Field which was a favorite growing up. Kinda had that vibe going in my head with certain instruments. Sampled Jean Jacques-Perrey - The Rose and The Cross and Dave Brubeck - Lonesome.
Solemn Seas (Week 11).mp3
Samples:
Tribal Bangin' Beats (Week 12)
A completely wild banger that started by me sampling some Crash Bandicoot 2 promo footage and recording the trailer music. Yes, trailer music. That spawned the long messy journey of a song that lays before you to this day. There's some other samples too along the way. Spiritual in only the way Crash Bandicoot can be.
Sombras (Week 13)
Sample from Buika - Sombras which is a pretty dope song by itself. Jazz and hip-hop influenced.
Rondo's Groove (Week 14)
The last track on the series when I'm assuming that finals eventually took over and all free time was strictly prohibited as are the rules of university! This was actually an original composition which didn't involve me sampling the main instruments in the track other than the drums. So enjoy the groovy funk synths and break beats my friends. You've earned it! As the name implies, it's supposed to be a Rondo, which it is I think? Not sure, don't care. You could still put it in a video game.